ABOUT
The Polynesian, its ultimate ode to Tiki, led by global Tiki apostle Brian Miller, a veteran craft bartender of more than two decades, The Polynesian is unprecedented in ambition and scope, honoring Tiki's past and reinvigorating it for generations to come. Located in Midtown West's new Pod Times Square Hotel (400 West 42nd St.), The Polynesian accommodates 200 guests split equally between its indoor space and outdoor terrace, each with its own full-sized bar. The terrace also offers a spectacular panoramic view of the city.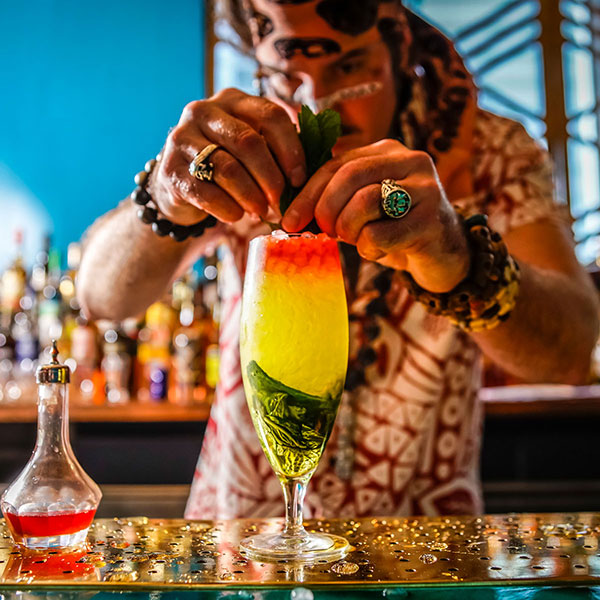 The Polynesian, which fulfills Miller's life-long dream of opening a 21st century Tiki bar, features 19 original cocktails and 4 large format drinks. Miller, an ardent Rum aficionado, is curating the world's largest Rum collection spanning numerous countries. He also incorporates a wide array of spirits beyond Rum in his Tiki drinks, from Gin to Bourbon, Mezcal to Scotch and Cognac to Sherry. One of the most visible and beloved Tiki proponents worldwide, Miller is known for his "Tiki Mondays with Miller" pop-ups at top bars across the U.S., Europe and Asia.
Miller's cocktails tap into the history of Tiki, honoring its progenitors, Trader Vic and Don the Beachcomber, as well as contemporary Tiki idols. Major Food Group scoured historic Tiki food menus to create elevated nostalgic favorites, like Pu Pu Platters with Spare Ribs, Spring Rolls, Chicken Wings and more, as well as a best-of-class Crab Rangoon.
The Polynesian's design by Vanessa Guilford pays homage to the heritage and indigenous art forms of Oceania's treasured past that originally inspired Tiki culture. Timber beams and bamboo slating of the ceilings, modeled after traditional island huts, form the architecture of the space, while the decoration takes inspiration from original Polynesian arts and craftwork.