Cocktails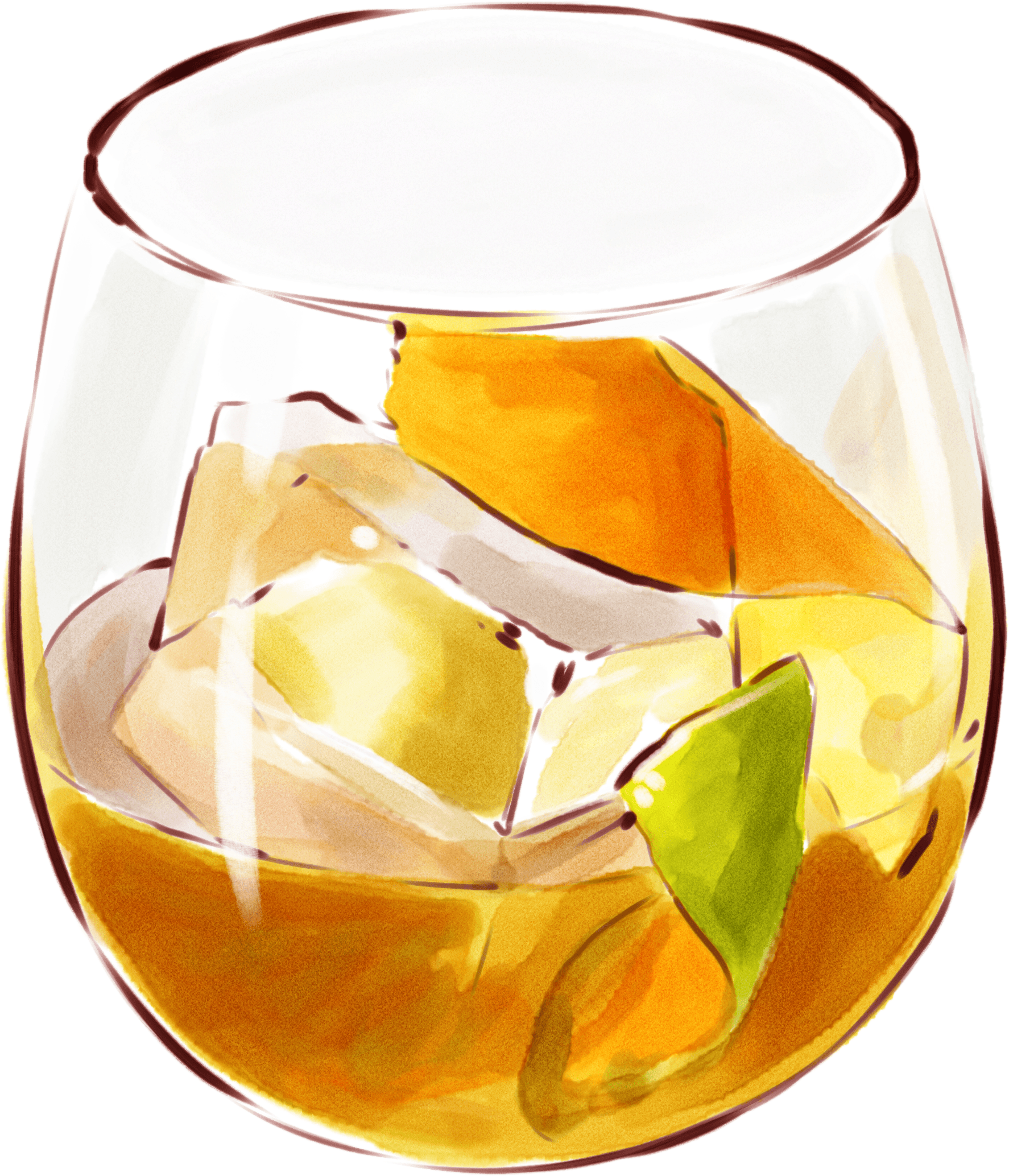 SMOKIN' SARONG .. 17
coconut tea infused scotch, cinnamon, chipotle honey and tropical juices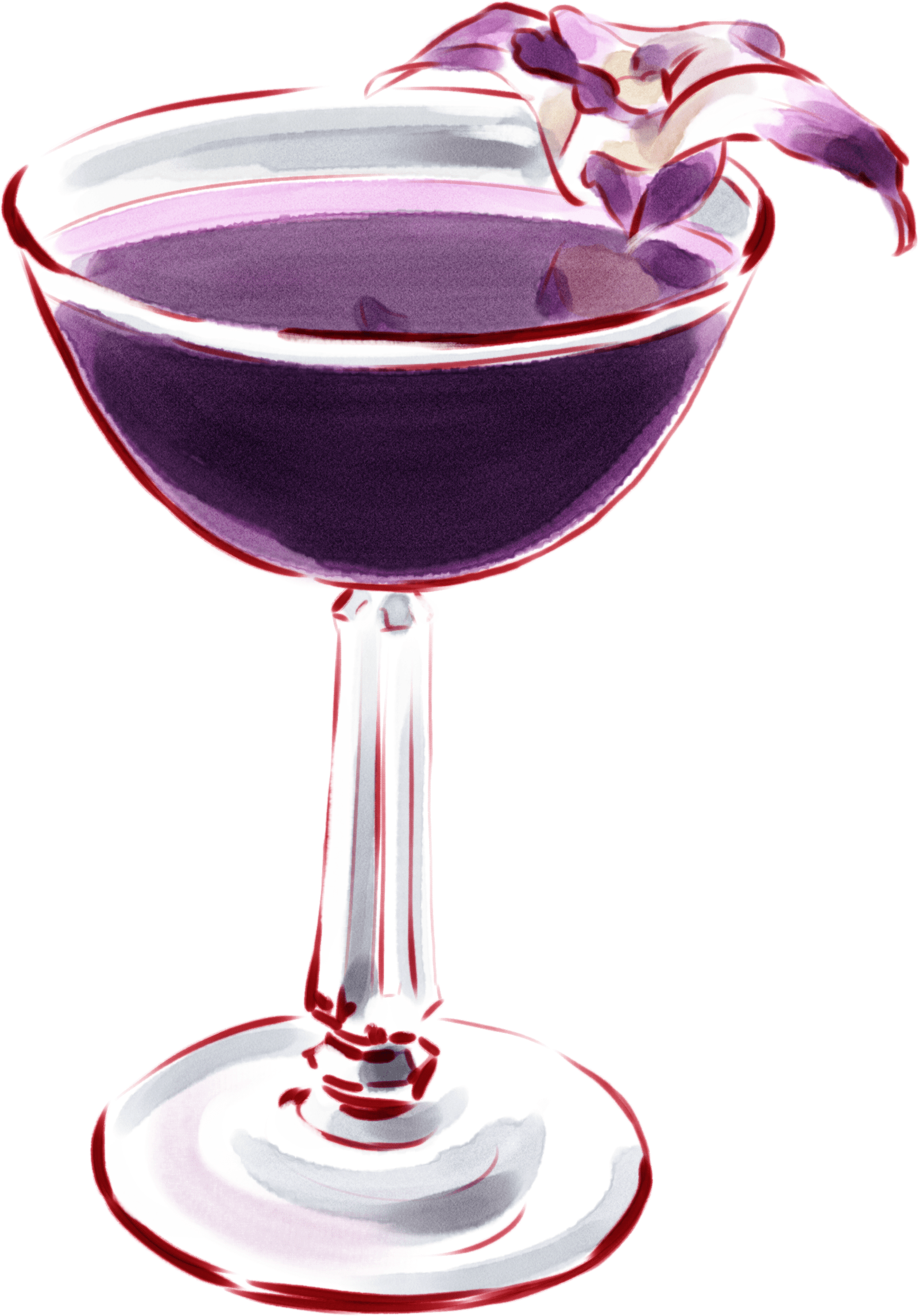 COMMODORE DAIQUIRI .. 17
rums, orgeat, ube extract and tropical juices
This tipple definitely outranks your Daiquiri.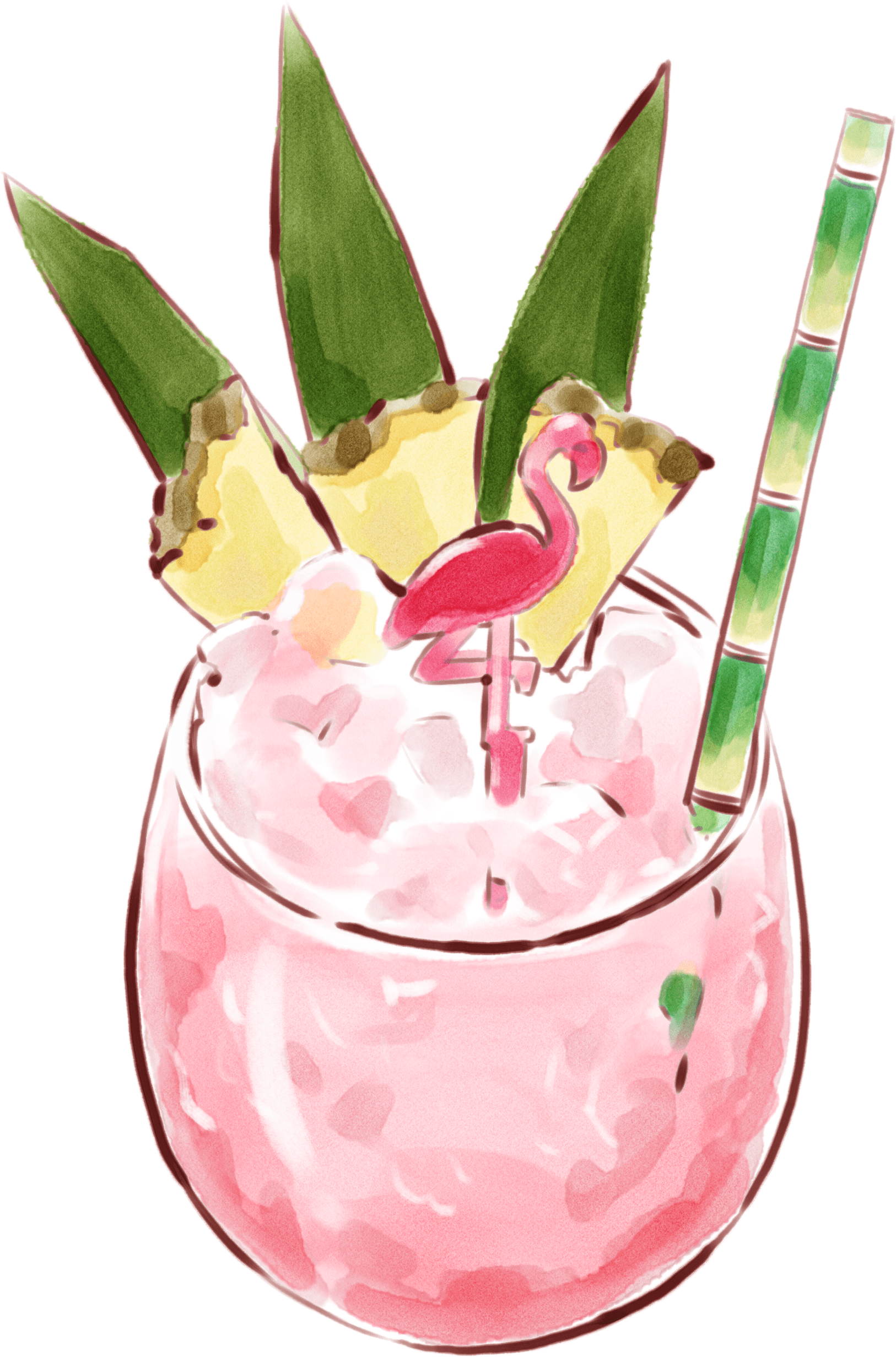 MARAMA MAMA PUNCH ..... 17
vodka infused with summer royale tea, rums, orgeats, bitters and tropical juices
Beach, please!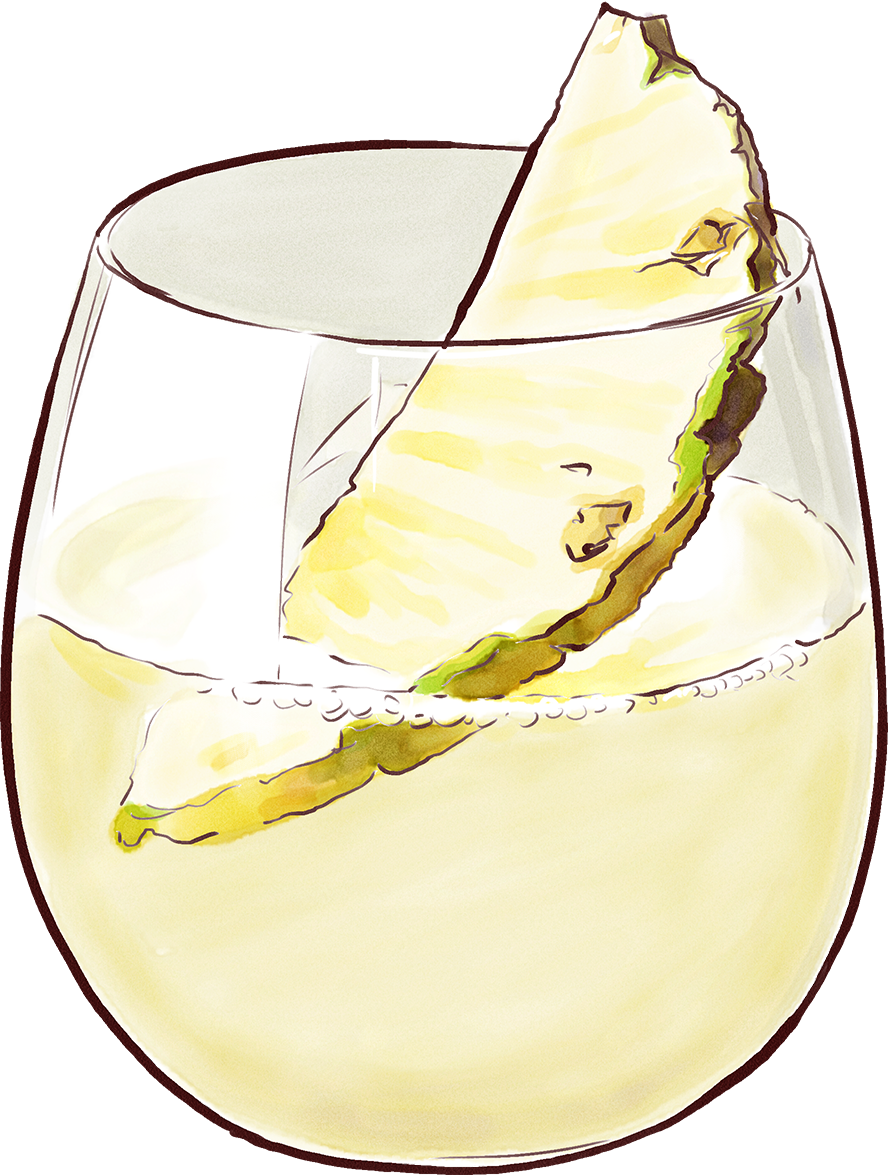 RITA HAYWORTH ..... 17
overproof tequila infused with pineapple and sage, honey, chartreuse and lime
Put the blame on Mame when you fall for this one.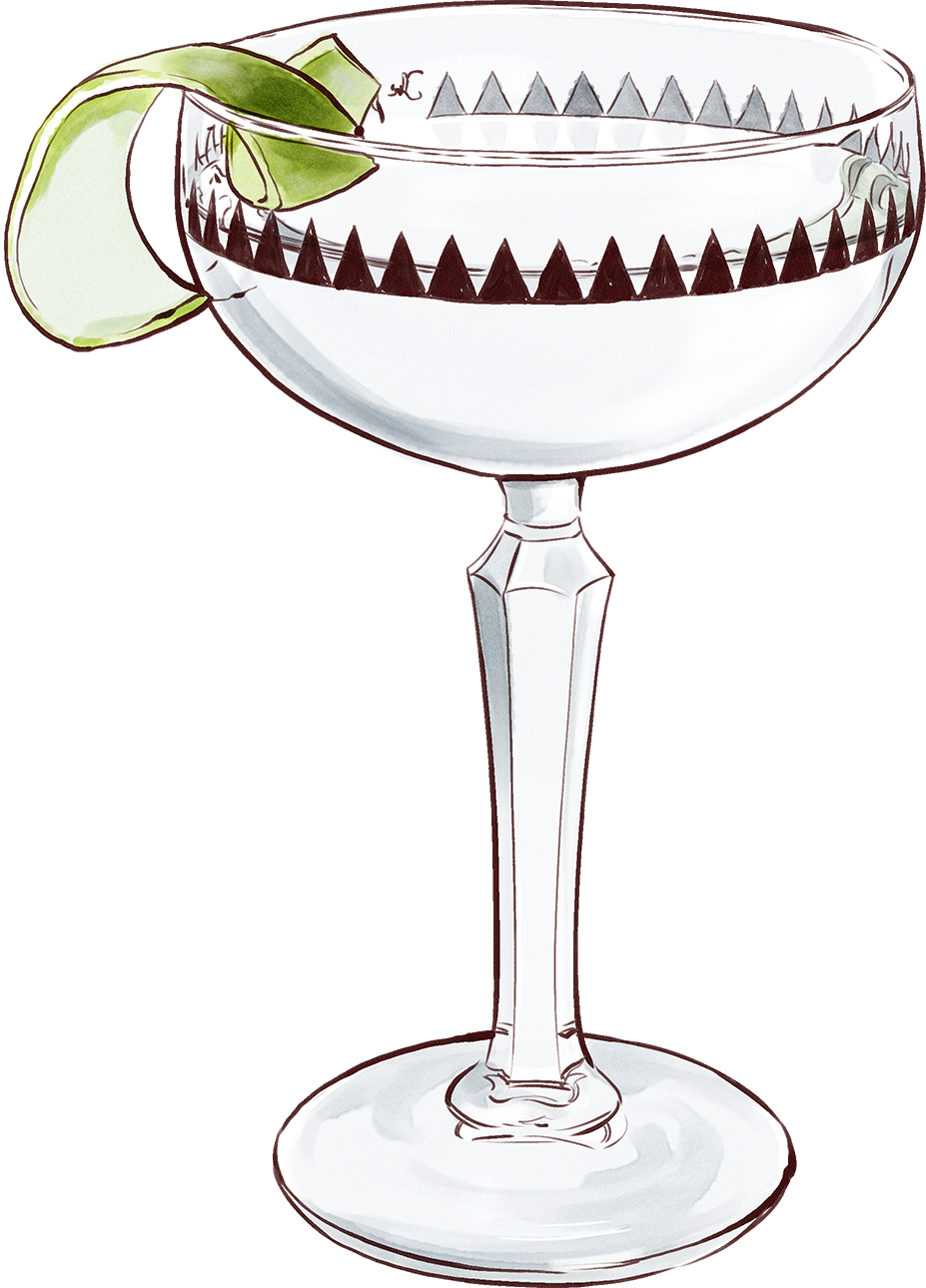 MARTINIKI ... 17
r(h)ums, gin, maraschino, pamplemousse liqueur, orgeat, bitters and absinthe
Bum. Beach Bum.
Stirred not shaken.

NOTORIOUS P.O.G ..... 17
rums, passion fruit, orange, guava, cinnamon, amaro and club soda
I love it when you call me
Big Guava.

VAYA KON TIKI .............. 17
r(h)ums infused with coconut african redbush tea, ginger, cinnamon, cayenne coconut cream and tropical juices
Walk with the Tiki Gods and become legend, like
Thor Heyerdahl.
Tiki Classics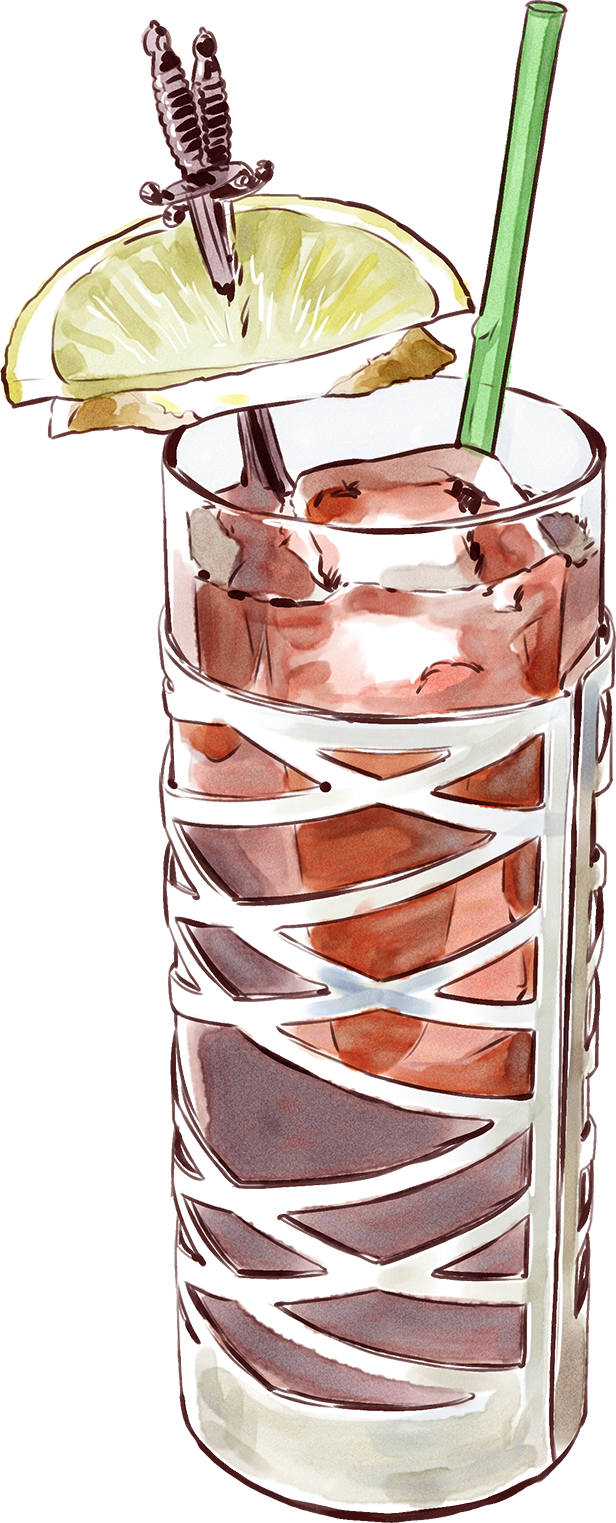 EL DIABLO ... 17
(Trader Vic)
overproof tequila, mezcal, ginger, cassis, juices and club soda
Ever dance with devil in the pale moonlight?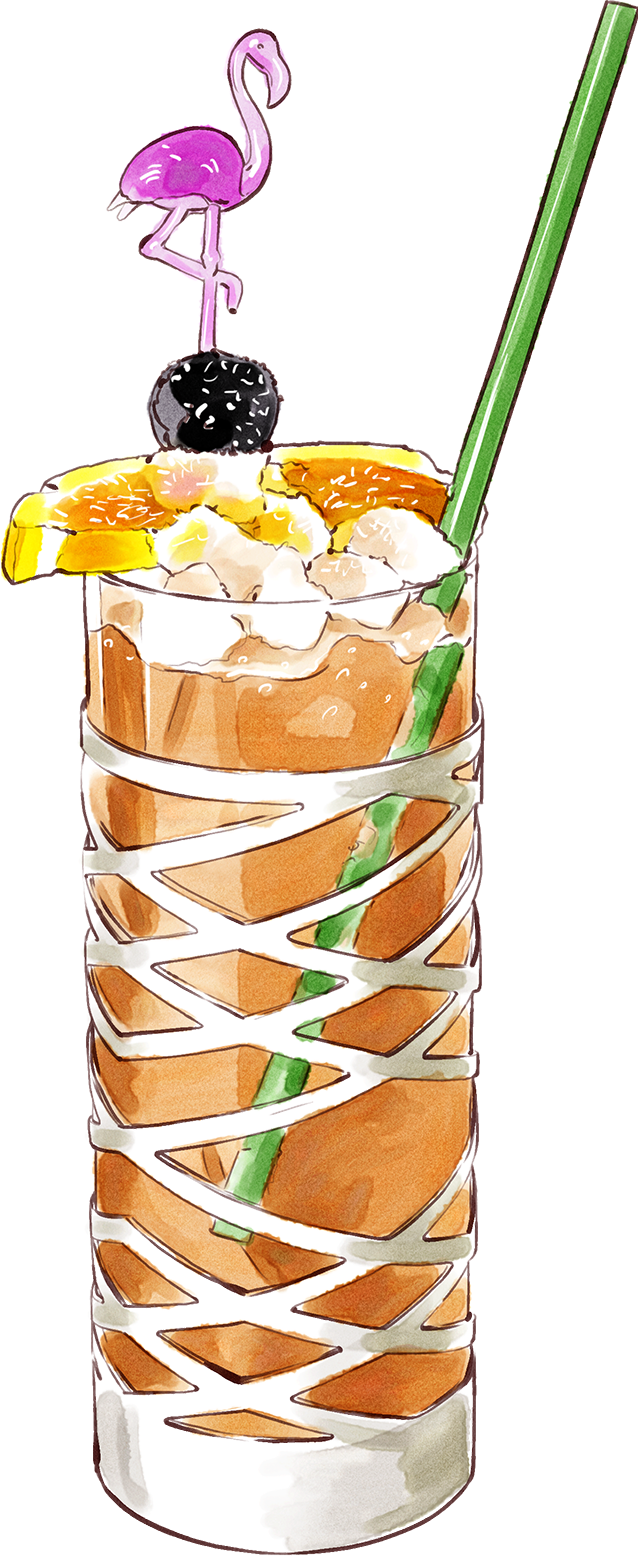 PLANTER'S PUNCH .. 17
(Don The Beachcomber)
rums, grenadine, falernum, bitters and lime
This is how you say "welcome" in the islands.

CHIEF LAPU LAPU .... 19
(Bob Esmino)
rums, passion fruit, honey, grenadine, orange liqueur, bitters and juices
In honor of one of the true O.G.'s of Tiki.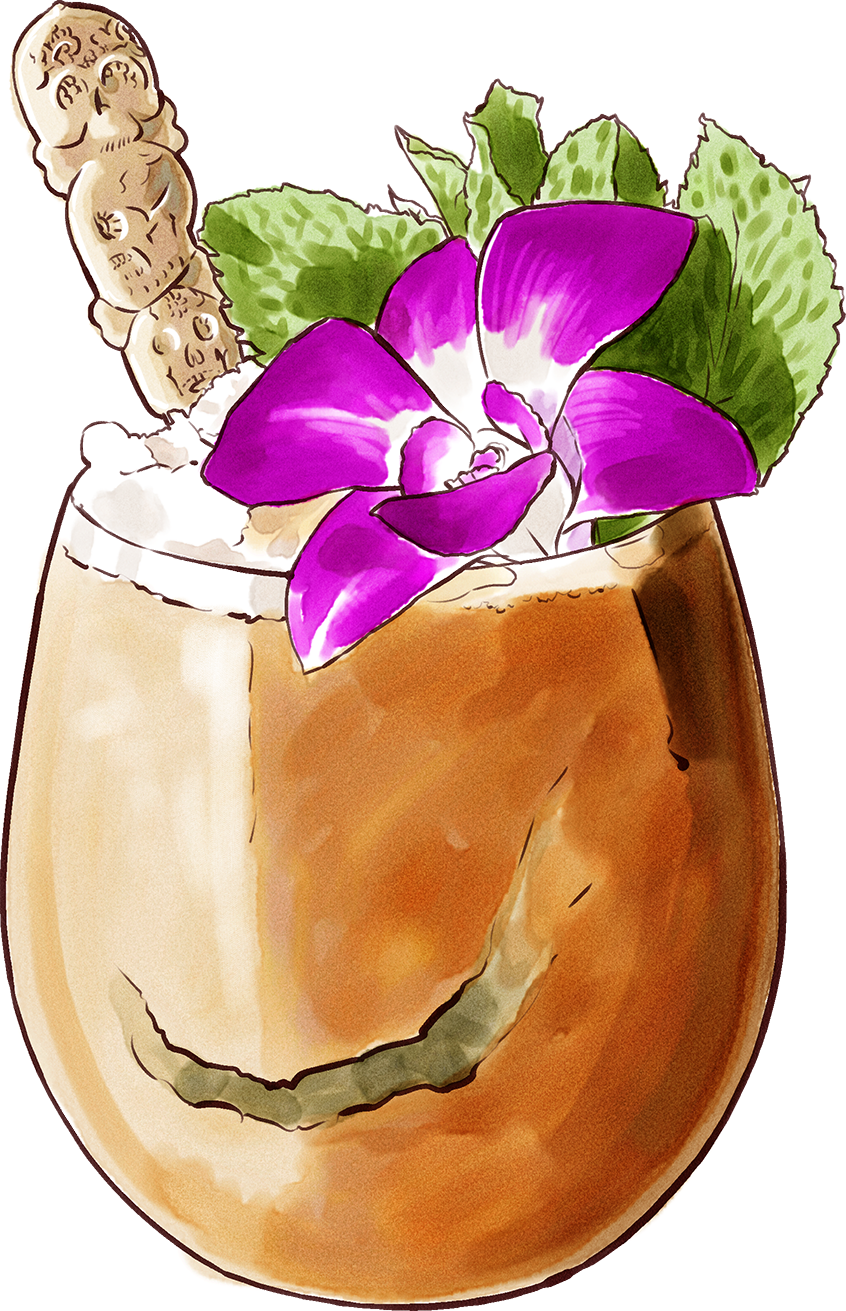 MAI TAI .............. 19
(Trader Vic)
r(h)ums, orgeats, orange liqueur and lime
The classic that launched a thousand rum rhapsodies.
XXX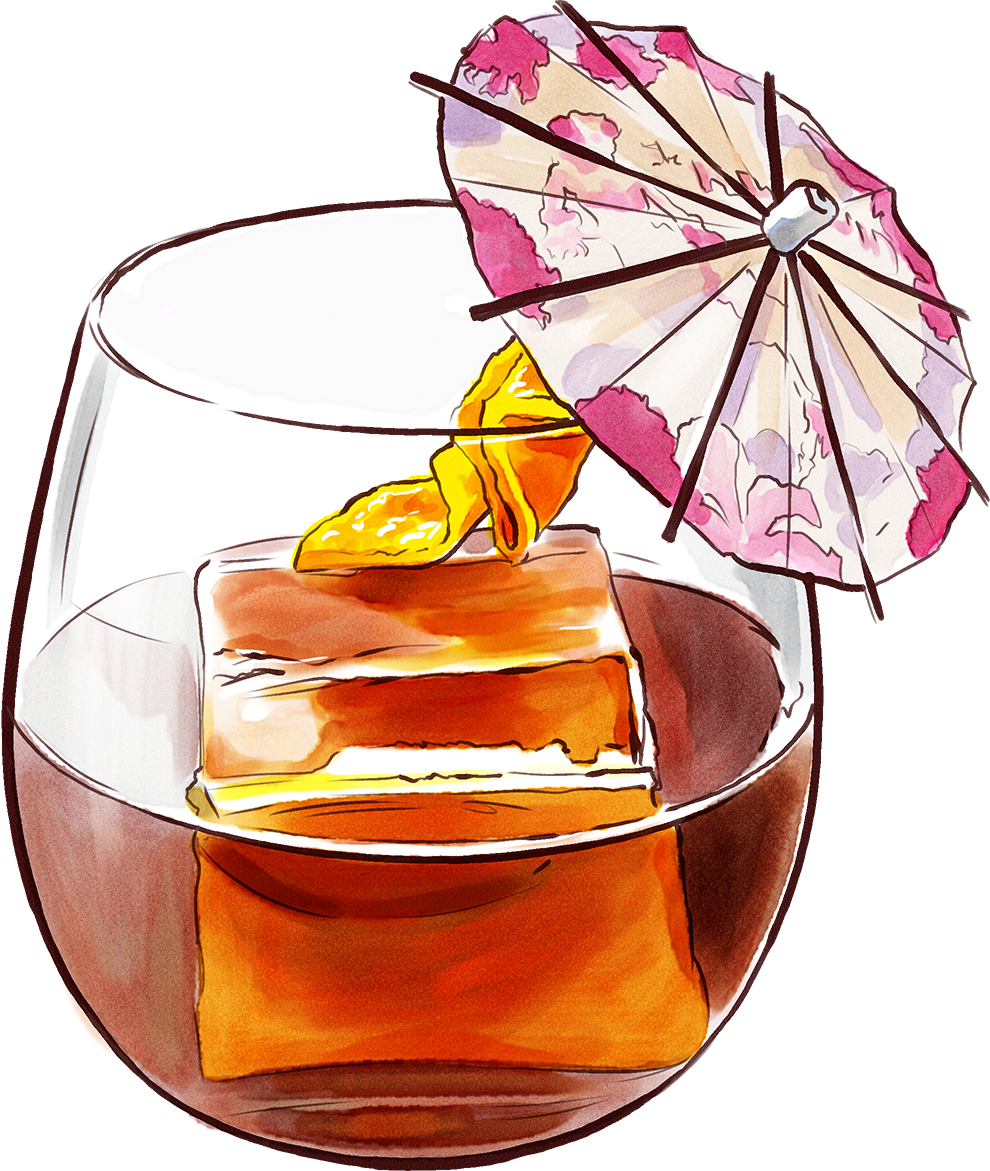 SAO FENG .... 19
Japanese whisky, rum infused with chai and mint tea, cinnamon and bitters
For those seeking treasure, look no futher.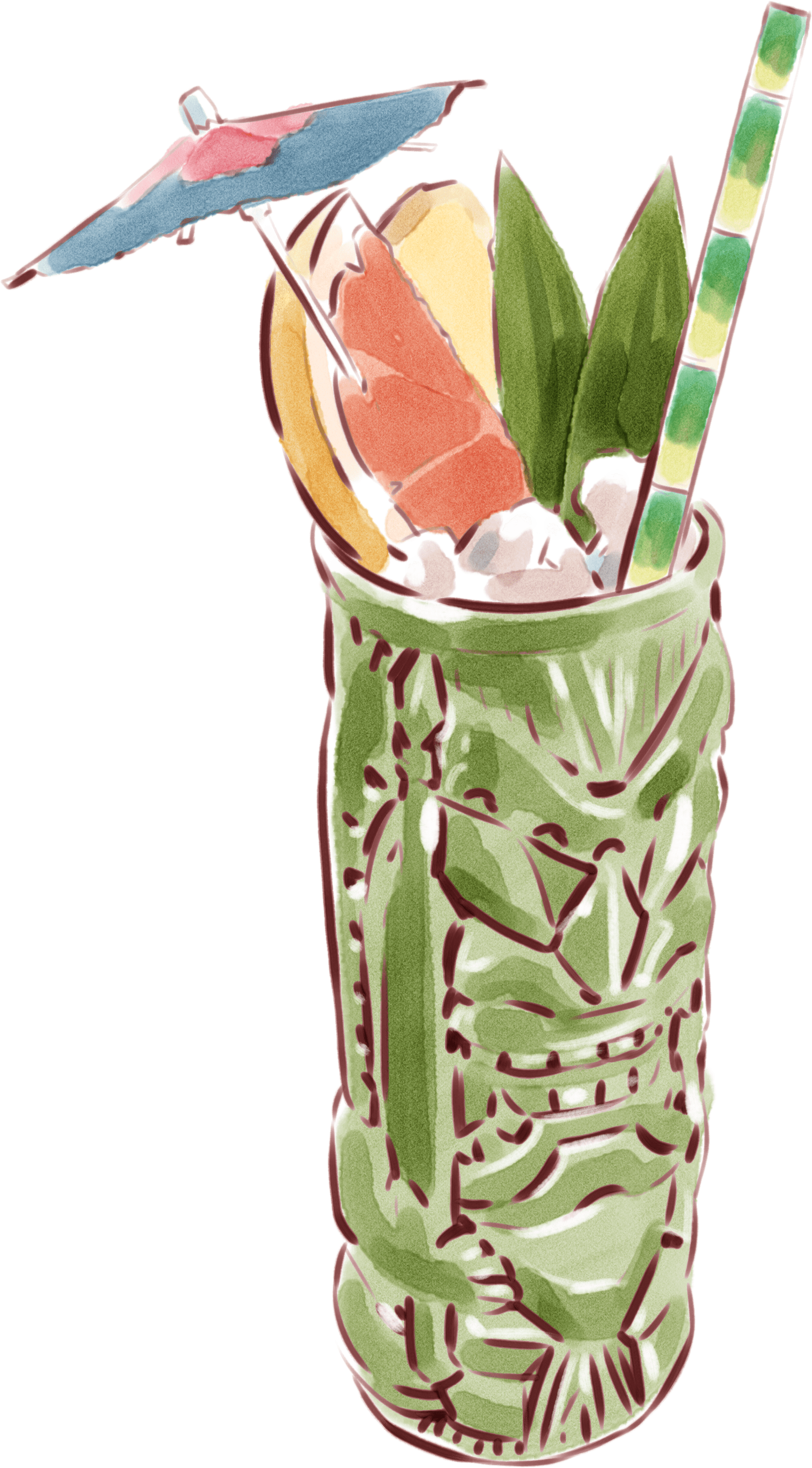 DOUBLE BARREL WINCHESTER ... 24
gins, elderflower, ginger, grenadine and juices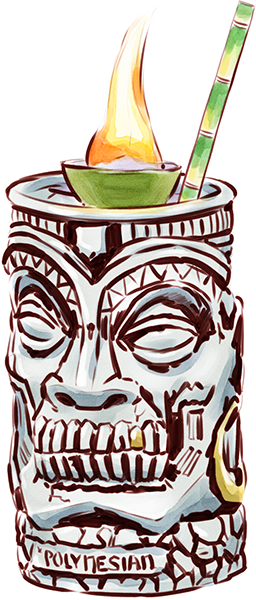 THE DERELICT ...... 22
rums, bourbon, banana, cinnamon, passion fruit, absinthe and juices
Get off the Good Ship Lillipop and rotten up like the rest of us!
Frozen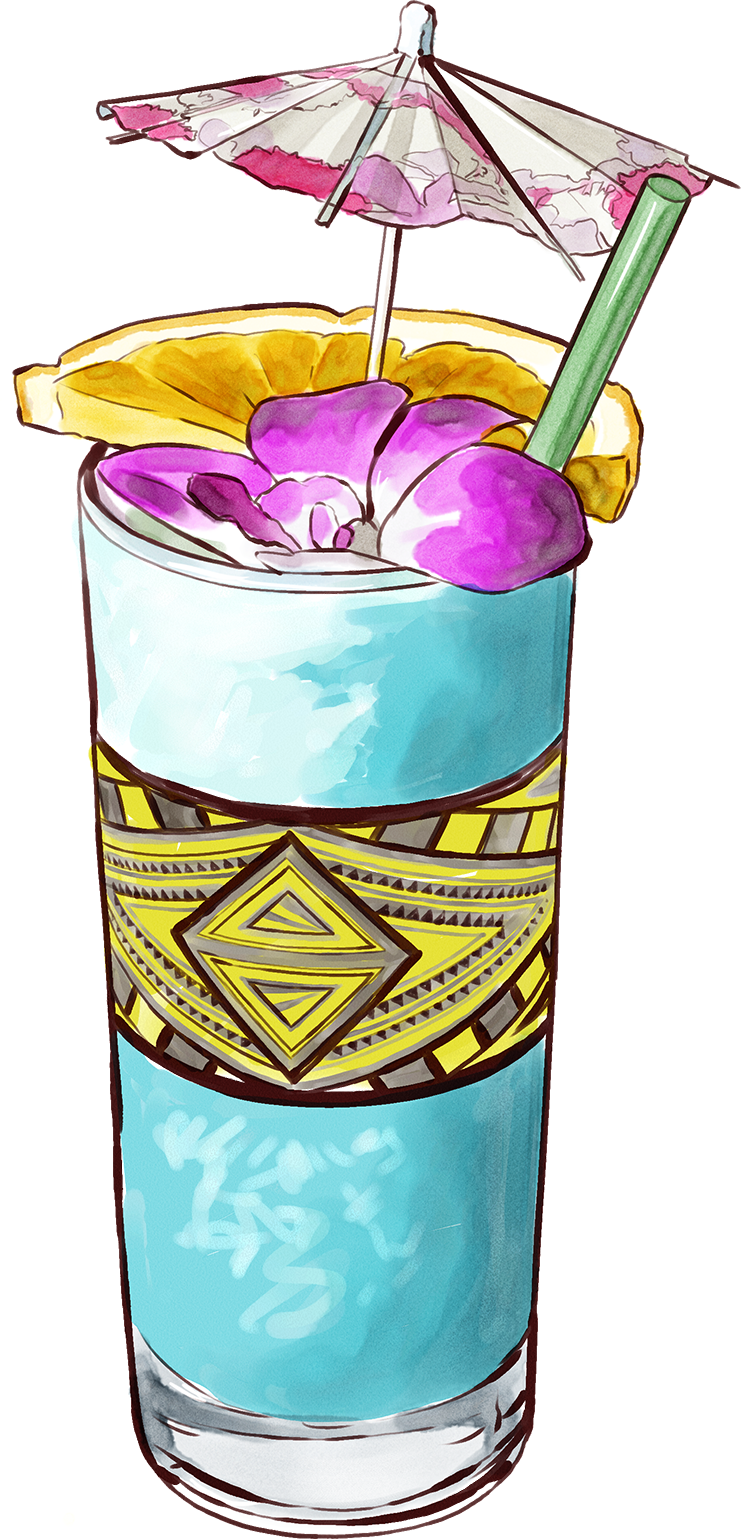 BLUE HAWAII ..... 17
rums, coconut, blue curaçao and tropical juices
The islands are calling, pick up the phone.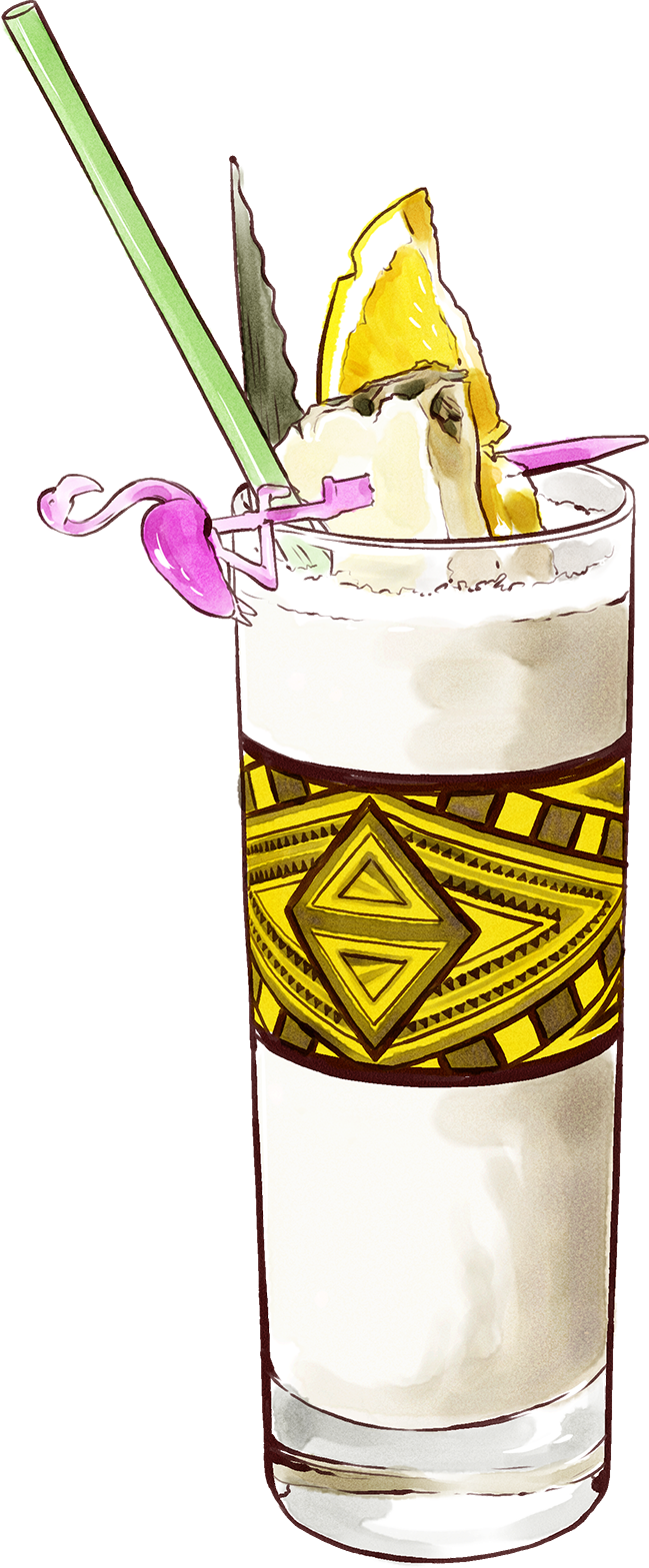 PIÑA COLADA ..... 17
rums, coconut, cream and pineapple
Joan Crawford thought this drink was better than slapping Bette Davis...
Large Format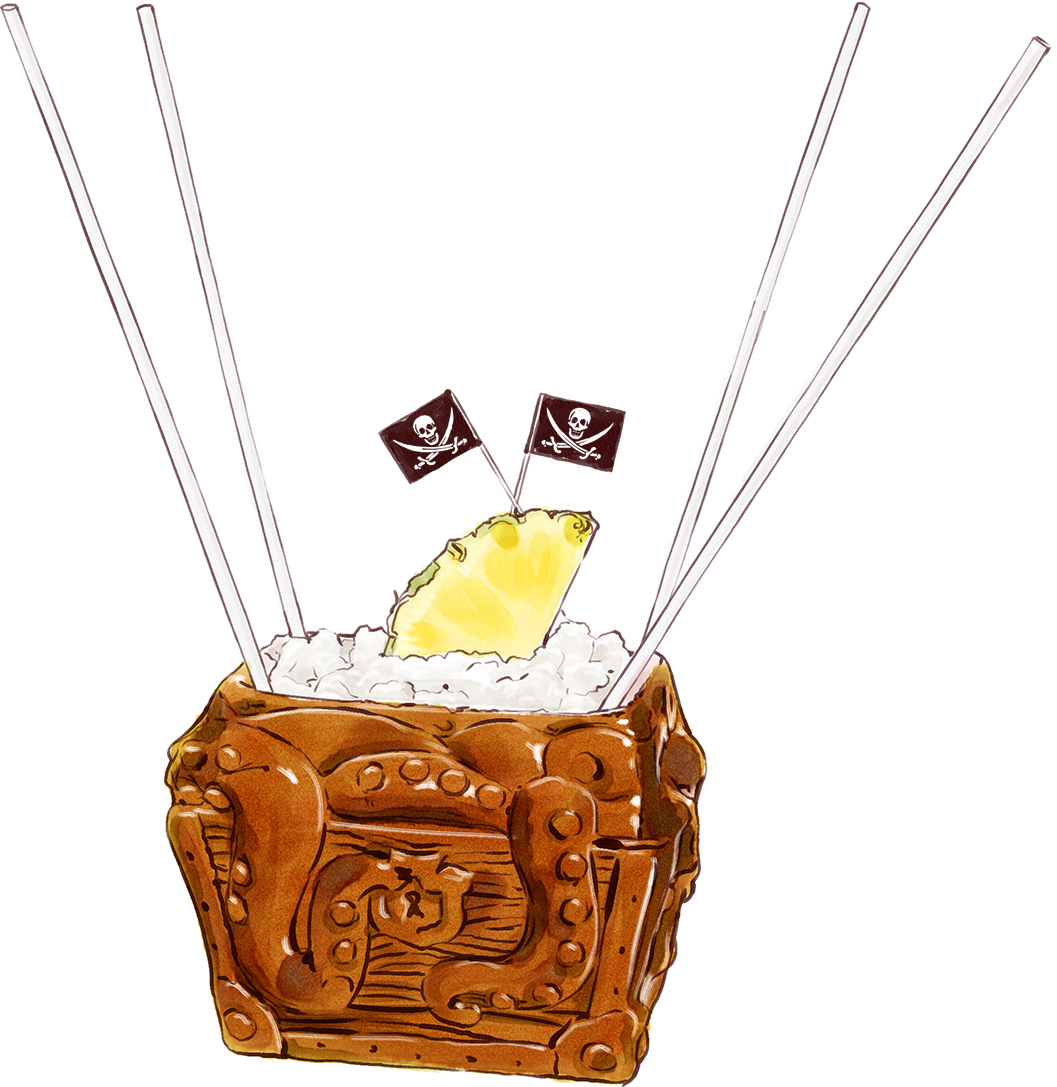 HOIST THE COLOURS PUNCH ..... 85
rums, cinnamon, bitters, absinthe, tropical juices and club soda
Yo-ho, haul together and drink this chest dry.
HUMUHUMUNUKUNUKUAPUA'A ..... 85
rum, clairin, blue curacao, coconut liqueur, absinthe and tropical juices
Correctly pronounce the name of this "fishy" tropical tipple and you will truly be kama'aina.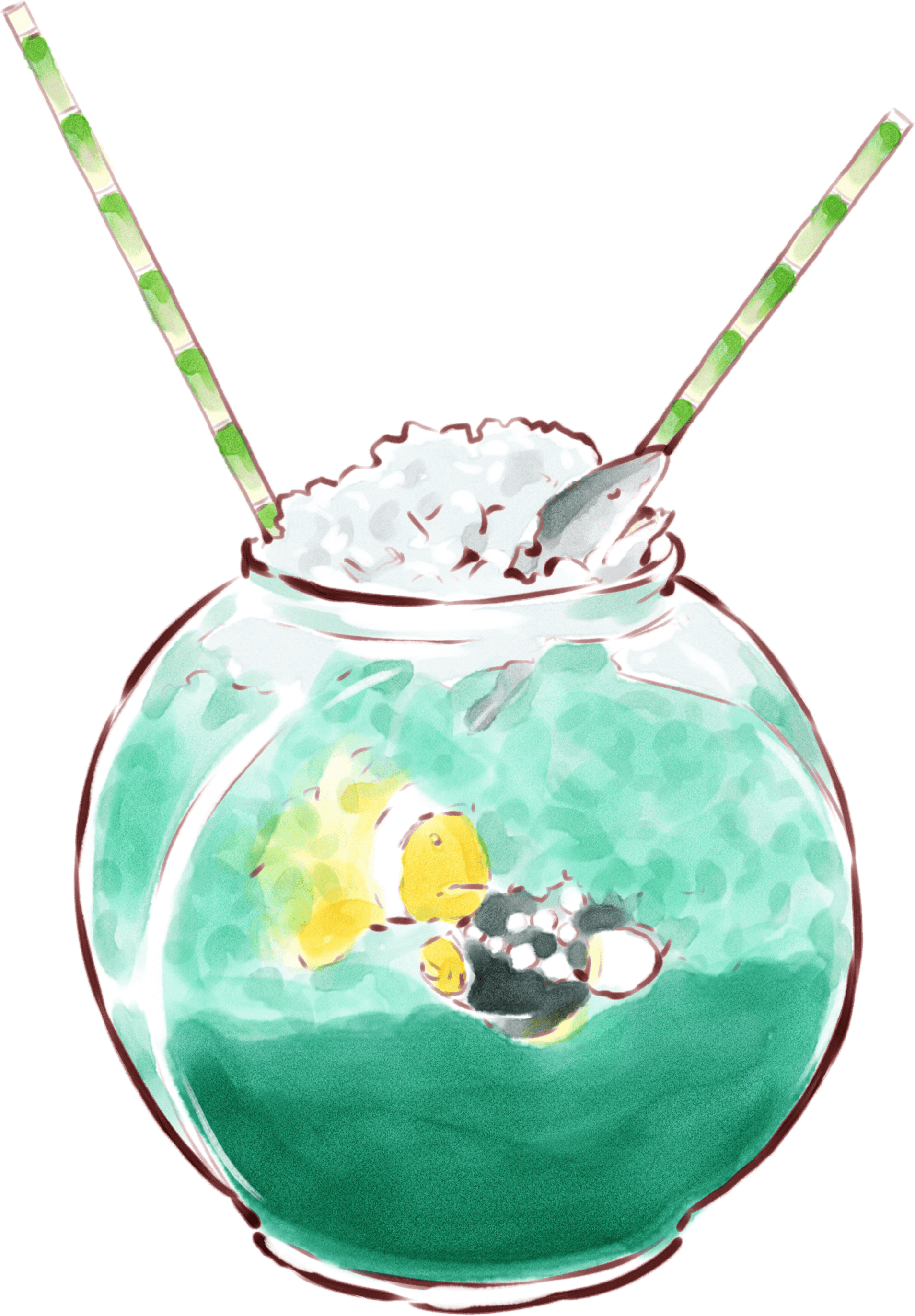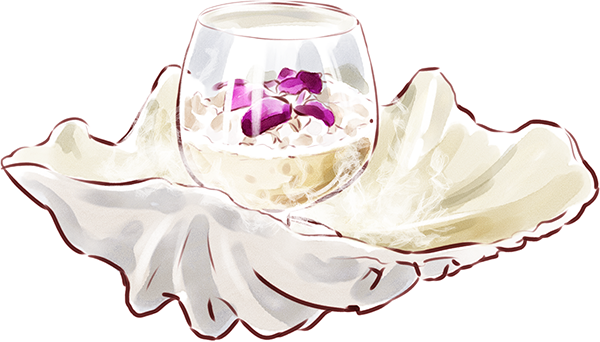 EXOTICA BOWL ..... 85
rums infused with kaffir lime, green curry & coriander, lemongrass, bay leaf, ginger, coconut, bitters, juices and club soda
If you close your eyes when drinking this, you can almost feel the sand between your toes.
Teetotalers

PINAY COLADA ..... 8
Pineapple, coconut, cream, ube and club soda
Ain't nuthin' like the real thing... but this is close!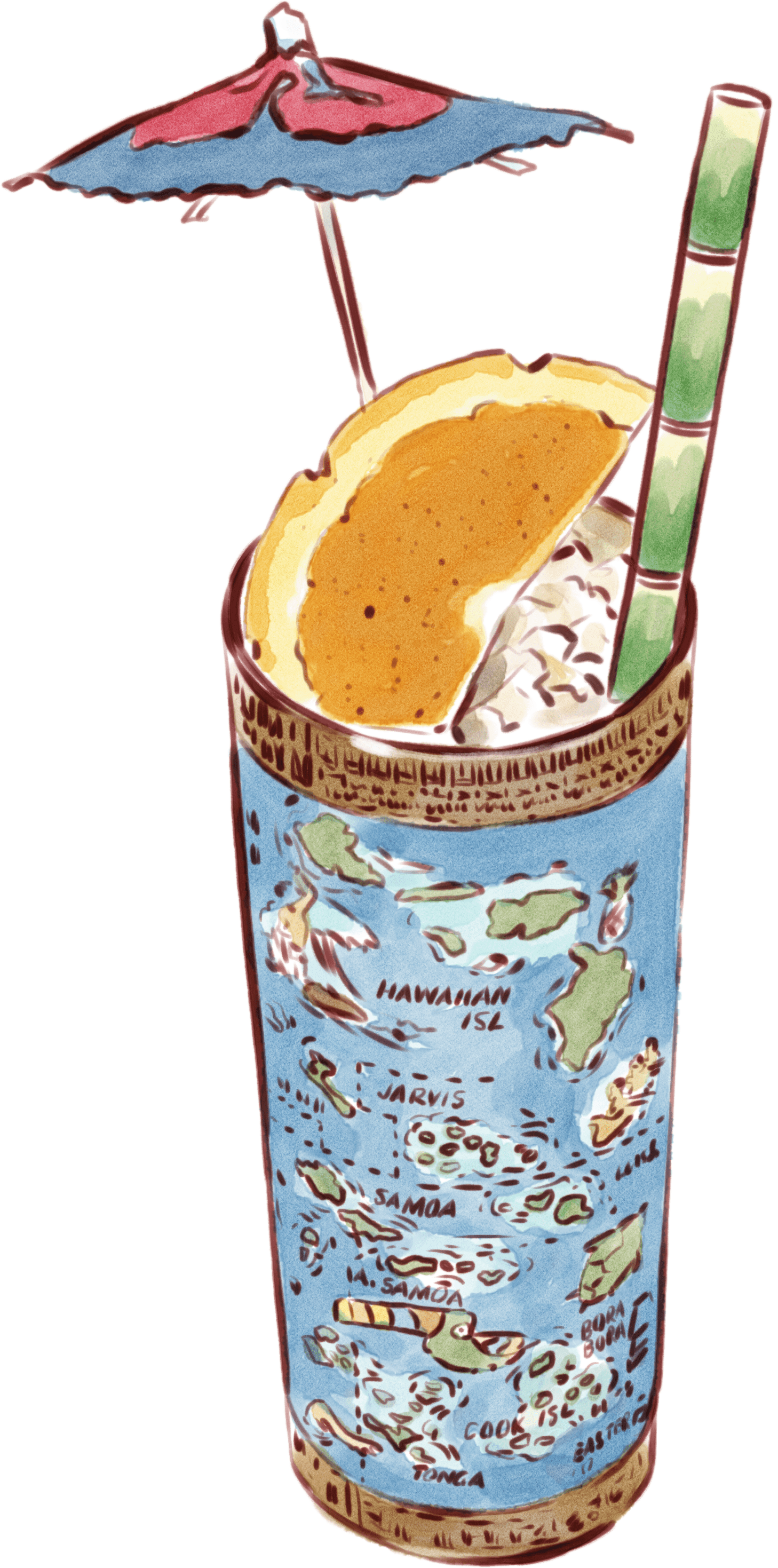 MEA HUNA .. 8
Tropical juices, passion fruit, cinnamon, coconut, and club soda